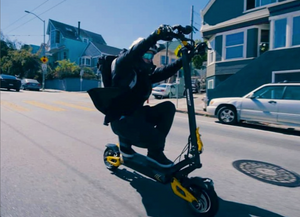 Top 8 Light Weight Electric Scooters in 2023
Electric scooters are becoming more and more popular as a transportation method and hobby vehicle, especially with the introduction of accessible lightweight models. Lightweight electric scooters have a number of benefits for first-time and experienced riders alike. Here's what you need to know about them, and the eight best lightweight electric scooters on the market in 2023.
Why choose a lightweight scooter?
Generally, electric scooters are a great option for those who want to upgrade their commute or enjoy some fun weekend riding. They're cheaper and more eco-friendly than cars and motorbikes while also being powerful and safe enough to use frequently. The market is expanding rapidly as well, meaning that getting an electric scooter now puts you in a great place for improving infrastructure and resources.
Lightweight scooters especially are an excellent option for those who regularly use their machines to commute. Having a lighter frame means that the vehicle is easier to store, at home, at your destination, and on public transit during your commute. It's also easier to stop and dismount quickly in the case of an emergency.
Top 8 Light Weight Electric Scooters in 2023
Here are eight of the best lightweight electric scooters available in 2023, arranged by their overall weight.
VSett Mini - 30 lbs
The VSett Mini electric scooter is designed to be the perfect lightweight machine for smaller riders. Weighing only 30 lbs, this small-framed vehicle packs a solid 12-mile base range with the capability to expand up to 20 miles with an external battery. It has a respectable commuting top speed of 18 mph and strong front and rear suspension for a smooth and comfortable ride. 
InMotion Climber - 46 lbs
Relatively new to the field, the InMotion Climber is designed to do exactly what it says on the tin. At only 46 lbs with strong dual 750W motors, this model can climb up to 36% slopes. Its water-resistant IP7X battery and IP56 body make it a great all-terrain vehicle while its decent cruising speed and 34-mile max range combined with its light frame make it a good choice for commuters. 
VSett 9+ - 55 lbs
Designed for simple, modest mobility, the VSett 9+ is the Mini's big city brother. This mid-range model has a 19-hour battery life and strong front and rear polyurethane and spring suspension to make hills easy to climb and rough terrain more manageable. The 9+ can accommodate a slightly larger rider than the Mini at a max load of 265 lbs and can go much further, up to 40 miles on a single charge and 33 mph.
Segway Ninebot P100s - 72.5 lbs
Another weather-resistant model from one of the most well-known personal electric vehicle companies in the business, the Segway Ninebot P100s has updated safety features including a high-quality battery and bright lighting system for extra visibility in poor weather conditions. At 72.5 lbs, it's mid-range for weight, but it also has better specs with the extra room. The max range of 62.1 miles and a max speed of 27 mph makes the P100s a good choice for hobby and long-range riding.
Segway SuperScooter G2 - 72.5 lbs
Built for sustained speed, the Segway SuperScooter G2 carries mid-range weight again at 72.5 lbs but compensates for this with large 11-inch pneumatic tires, a wide footboard, and strong suspension that offer the rider a smooth and comfortable experience while they cruise up to 43.5 mph, accelerating up to 30 mph in just under four seconds if they're using Race Mode. With six unique modes for peak performance however you choose to use it, the SuperScooter G2 is a wonderfully versatile machine.
VSett 10+ - 79 lbs
The VSett 10+ is built on the lessons learned from the 9+, featuring a new and improved system of motors, a stronger frame that can carry up to 285 lbs, and a better 60V 25Ah battery. While it clocks in slightly heavier at 79 lbs, it's still a portable and adaptable model that's great for hobby-level performance and regular commuting alike.
InMotion RS - 110 lbs
While yes, the InMotion RS is on the heavier end of the spectrum at 110 lbs, this new model focuses on a customized and safe experience that's worth the extra weight. Built using SUV engineering principles, this twin bar frame has two powerful 2000W motors and full-hydraulic disc brakes in a regenerative braking system, meaning it can accelerate quickly and stop just as fast for safe handling on rugged terrain. This model is great for off-road riding, with an impressive IP6X safety rating for the body and IP7X rating for the battery.
VSett 11+ - 128 lbs
The heaviest model on our list is the VSett 11+, which tops the scales at 128 lbs. This model, built up from its predecessor the 11x, has a whopping 70-mile range and 65 mph top speed, with a rider capacity of up to 330 lbs, making it a solid choice for distance and sport riders alike. With powerful hydraulic brakes on the front and rear tires and hydraulic suspension on both wheels, the 11+ is built to get you where you want to go safely and quickly, no matter where that is.
Conclusion
Lightweight scooters can be a great way to get into the e-scooter scene. They're accessible and portable machines that can make commuting more fun and convenient or add a little joy to your weekend adventures. 
If you're interested in getting a lightweight electric scooter for yourself, you can check out Alien Rides for the top models on the market from the best manufacturers in the industry. Our strict quality standards and rigorous testing mean that you're always getting the best quality for your money.
Read More: Electric Unicycles: The Complete Maintenance Guide

Read More: 7 Key Features to Look for When Purchasing an Electric Scooter

---