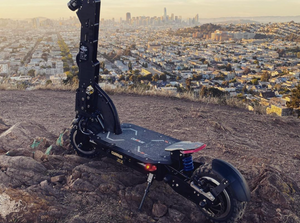 Top 5 Cities to Ride Electric Scooters
Electric scooters are gaining popularity over the course of the last decade and for good reason.
To begin with, electric scooters are a more affordable option for many commuters. On top of being priced on average hundreds of dollars less than the cheapest motorcycles and cars on the market. They're also cheaper to maintain, with minimal charging, repair, and maintenance costs. Additionally, for those who do not want to own an electric scooter and for whom it may not be practical, there are scooter rental services in many major cities that offer transportation at a reasonable daily or hourly rate.
Electric scooters are also better for the environment and for our health. They run on electricity, which reduces the need for harmful fossil fuels in a commuting and recreational environment. Additionally, research suggests that riding an electric scooter can have a variety of benefits on your health from improved balance to better immune systems and less stress on the body.
Beyond all of this, riding an electric scooter is fun! It's a great way to inject some novelty and enjoyment into otherwise boring daily travel and to encourage new hobbies with distance and sport riding.
Top 5 cities for electric scooters
Here are the top five cities in the United States for electric scooter riders.
Portland, Oregon
Portland has had e-scooter traffic since 2017 when the scooter boom first started. This arts-loving city fully embraced the environmentally friendly alternative for their tourism industry, implementing designated streets and lanes for scooter use as well as multi-use paths in parks for sport riding. With an ever-improving walkable design, this city is great for outdoor enthusiasts and those new to scooter riding.
Denver, Colorado
E-scooters had a bit of a rocky start in Denver, which didn't adopt the trend immediately or have much success with it until Lime, the e-scooter rental service, developed a new fleet of machines specifically designed to handle the harsh Colorado winters. Since then, this environmentalism-loving city has fully embraced the micro-mobility movement and is taking steps to implement new infrastructure to support it, including new scooter docks placed at convenient intervals around the city.
Atlanta, Georgia
Being the home to the busiest international airport in the world, Atlanta has to have a robust public transportation infrastructure. With the MARTA, streetcars, and bus systems connecting the city, larger transportation is covered, but the city is also improving its personal vehicle infrastructure every year. As of the writing of this article, Atlanta hosts four different e-scooter rental companies - Bird, Helbiz, Spin, and VeoRide - with an openness to adding more. They are also building in more and more resources for e-scooter riders specifically including charging stations and docks, as well as PEV lanes and paths in the city's parks and public spaces.
Santa Monica, California
Santa Monica is a beautiful oceanside city with a thriving tourism industry. As such, it has a considerable and ever-improving public transportation system including e-scooter rental services from Spin, Veo, and Wheels. The city's piers, boardwalks, and outdoor malls all have excellent wide walkways for PEV movement and there are many personal vehicle lanes available for use. 
Austin, Texas
Austin is a large, sprawling city where sometimes just walking isn't your best option. But with a solid public transportation system in the form of the Capital Metro and strong biking and PEV lane presence, using an electric scooter in the city is a great solution. Additionally, you can download a bike map  that shows all of these lanes from the Austin government website.
Washington DC
Washington DC has always had a reputation of modern progress as the nation's capital, and that holds true with transportation. Its infrastructure for public transport, with the DC Circulator and the Metro systems, as well as the streetcars, is solid and hailed as one of the best in the United States, so it shouldn't come as a surprise when you learn that DC's walkable infrastructure is amazing as well. There are plenty of designated bike and scooter lanes to use for safe riding and lots of scooter docks to charge and rent from.
Conclusion
Looking to get into electric scooters? Alien Rides has you covered. Explore our range of high-quality, industry-leading models for commuting, long-distance, sport riding, and more. With an intensive review process and rigorous quality assurance standards, you can trust that you're getting the best ride every time with Alien Rides.
Read More: Electric Unicycles: The Complete Maintenance Guide

Read More: 7 Key Features to Look for When Purchasing an Electric Scooter

Read More: A Complete Guide to Picking an Electric Unicycle
---