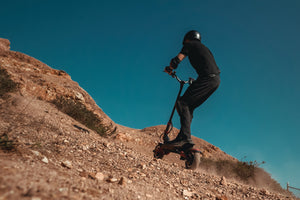 The Fastest Electric Scooters of 2023: A Comprehensive Review
Electric scooters are a fun, eco-friendly, and efficient way to travel or enjoy recreational riding. So what are the limits of this mode of transportation? How fast can an electric scooter go? To find this out, we looked at the fastest electric scooters of 2023 and compared their stats. 
How fast is the fastest electric scooter? 
The current fastest electric scooter on the market is the Rion RE90, which can reach an impressive 100 mph. For safety reasons, this scooter has been capped at 80 mph when in actual use. Sometimes called "the Bugatti of e-scooters," the racing edition of this model is known for extremely high performance and strong construction. 
With a lighter-weight frame than many comparable performance models (at around 59 lbs) and a 96.6-volt lithium-ion battery with cutting-edge energy cells, this e-scooter is built for speed and style.
That being said, it does have a few points worth noting. First, the tires are racing slick tires, meaning they have little to no tread. This is great for attaining high speeds but can make riding on uneven or overly-slick surfaces (such as rained-out pavement) more hazardous.
The Rion RE90 costs roughly $6,800 but is not currently in production. It's unclear whether Rion will be bringing the model back.
The fastest electric scooters of 2023
While the RE90 may not be available at the moment, there are still many great options for speedsters in the electric scooter market. Here are three of the fastest electric scooters available in 2023.
InMotion RS - 68 mph
InMotion's newest model is an ultra-high-performance e-scooter. The InMotion RS can go up to 68 mph thanks to its 2000W motors. Not only is it fast, though; it's also a great all-terrain vehicle, with enough torque for hill-climbing and a transforming system. It is currently available for pre-order.
Vsett 11+ Super 72 - 65 mph
The Vsett 11+ Super 72 builds on the successful construction of the 9+ and 10+ to offer riders a brand-new evolution of the Zero 11 frame that lets you hit an impressive 65 mph. Thanks to its twin stem bars and dual suspension (including both front and rear hydraulics), this model is an incredibly smooth ride with customizable power settings, making it a great commuter-to-hobby vehicle choice.

Extreme Bull K6 - 60 mph
The Extreme Bull K6 e-bike is solidly balanced and extremely powerful, with a maximum range of up to 120 miles on a single charge and an impressive max speed of 60 mph. Its refined frame and upgraded suspension give it a smoother, more enjoyable ride for city riders and hobbyists alike. 
Conclusion
Electric scooters are excellent options for those who want a fast machine but aren't keen on a motorcycle, car, or other traditional vehicle. They're compact, generally more affordable, and have a building community to join into. 
If you're interested in getting an electric scooter, consider
Alien Rides' selection of top-of-the-line models
from across the industry - including all of the models mentioned above! Our experts have vetted these models personally and can give you the support you need to ride comfortably and safely for a long time to come.
---