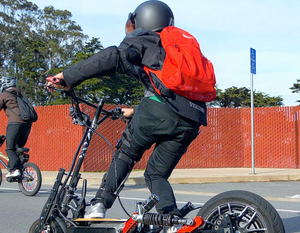 Electric Scooter Regulations and Legislation
Riding an electric scooter can be an economical, environmentally friendly, and fun way to make your commute or indulge in a new hobby. Because they're so new, though, the legal requirements for these vehicles aren't widely known. Do you need a license? What kind? Can you even drive them on the road near you? 
Here, we'll discuss the rules and regulations surrounding electric scooters in the United States. Be aware that this information may change as we learn more about these vehicles.
Where are e-scooters legal?
Though they're legal all over the US for personal and recreational use, electric scooters are only street-legal in 38 of the 50 states as of the writing of this article and are allowed on highways in only 34 of those states. Many of the other states have restrictions, such as not allowing e-scooters on limited access roads or mandating that they stay to the right at all times.
E-scooters are street legal in these states: 
Alabama

Alaska

Arizona

Arkansas

California

Colorado

Connecticut

Georgia

Hawaii

Illinois

Indiana

Iowa

Kansas

Louisiana

Maine

Maryland

Massachusetts

Minnesota

Mississippi

Missouri

Montana

Nebraska

Nevada

New Mexico

New York

North Carolina

North Dakota

Ohio

Oklahoma

Pennsylvania

Rhode Island

South Dakota

Tennessee

Texas

Utah

Vermont

Virginia

West Virginia
Do you need a license to ride an electric scooter?
Not many states require electric scooter riders to be licensed, but some do. In these states, you only need a standard driver's license - also called a Class C license - not a specialized one, such as the Class M license for motorcycles. This is slightly strange as many states categorize electric scooters alongside motorcycles and other small vehicles like mopeds.
Those states that require licensing are:
Alabama

Alaska

California

Illinois

Kansas

Maine

Massachusetts

Missouri

North Carolina
North Carolina also requires its riders to register their bikes with the DMV.
What other restrictions are placed on electric scooters?
The most common restriction applied to electric scooters is a minimum age of 12-16 (Arkansas, Washington DC, Florida, Michigan, Minnesota, Nevada, Ohio, Utah, and Virginia). Following that, most of the states that allow street riding require riders to wear helmets if they are under 18.
For riders over 18, there are no specific requirements for safety gear, though it's always recommended to wear at least a helmet, and in rougher areas, elbow and knee pads.
Conclusion
As always, it's best to check with your local government office for the details of riding an electric scooter legally in your area. Always make sure to get your vehicle and paperwork in line before taking your scooter out and about; it's usually better to be over prepared than underprepared.
Ready to start riding? Alien Rides has a wide array of high-quality electric scooters for you to enjoy. Choose from performance models, daily commuters, and much more from the top names in the industry, all rigorously tested to ensure that you're getting the best ride possible every time. 
Read More: Public Opinion on Electric Scooters: How Things Have Changed

Read More: 7 Key Features to Look for When Purchasing an Electric Scooter

Read More: 8 Unexpected Health Benefits of Riding Electric Scooters and Unicycles Daily
---