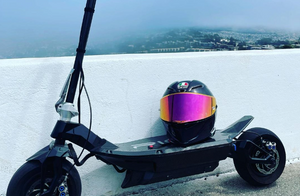 Best Electric Scooters for College Students
These Are the Top Electric Scooters For College Students
College students need to be able to move around campus and to and from work quickly, safely, and easily. One great way to do that is with an electric scooter. But how do you find the right model for you, and can you find a safe electric scooter on a college student budget? Here's what you need to know about finding the best electric scooters for college students.
What to Consider When Getting an Electric Scooter as a College Student
There are two main factors to consider when looking to buy an electric scooter as a college student: commuting convenience and economic value.
Commuting Convenience
Many college students will look into getting an electric scooter as a method of transport around their campus and their college's town so that they can more easily make it to class, work, or social gatherings. Because college campuses and towns tend to be densely populated, speed isn't a major factor for electric scooter shopping in this instance. 
Instead, weight might be put on the overall range of the scooter; the longer the range, the more use you will get out of the scooter between charges, which can be helpful with a busy college schedule. You may also consider the weight and build of the scooter; a compact, light machine is easier to store in a dorm or under a desk.
Economic Value
Of course, a major concern for many college students is money. Students may be on a fairly strict budget that limits their options to only scooters up to mid-range in terms of price. Though this can mean making compromises on certain features, there are many well-suited and practical machines on this limited budget. 
That being said, try not to be tempted to make your decisions based solely on budget. The cheapest machine on the market may not have the longevity, range, or safety features that you will need as a student to get the most economic value from an electric scooter. Find a reasonable compromise between price and features that ensures your safety.
Best Electric Scooters for College Students
Here are some of the best electric scooters for college students available through Alien Rides.
VSETT MINI
The VSETT Mini is a compact scooter with removable external batteries that allow you to easily reach 20 miles of range per charge. It's small stature makes it easy to store and transport when not ridden, but doesn't mean it's lacking in safety features; it includes a bright headlight and LED underlighting that makes it highly visible for night riding. At $699, it's a good budget machine for college students.
INMOTION CLIMBER ELECTRIC SCOOTER
For campuses with more uneven territory and those who need a bit more range, the InMotion Climber is a fantastic option. Capable of handling inclines up to 36% and with a high IP56 safety rating (IPX7 on the battery), the Climber is built for rainy, uneven exploration. With a 34-mile max range, it's a good choice for students with long or difficult commutes, and at $899, it's an excellent mid-range choice.
VSETT 9+ ELECTRIC SCOOTER
An improvement on the already great design of the 9+, the VSETT 9+ has a max range of 35 miles on a single charge, making it a great everyday ride that will last the entire day's travel. It includes a high-power headlight as well as front and rear signals, which make it a great choice for students dealing with high-traffic commutes, and with the larger 8.5-inch tires and upgraded suspension, it's perfect for moving quickly without giving up safety. With an affordable price tag of just around $1,600, the VSETT 9+ is an excellent investment for big-city students.
SEGWAY - NINEBOT P100S ELECTRIC SCOOTER
Coming from one of the best names in the industry, the Segway Ninebot P100S starts out strong with a long max range of over 62 miles and an IPX5 water resistance rating. This updated design includes wide footboards and ergonomic grips for comfortable riding, all-season tires, and a comprehensive lighting system that make it great for night riding. At $1,999, the Ninebot P100S is a solid investment for a long-term student.
Conclusion
If you're looking for a compact, economical, and practical electric scooter to ride around campus or to and from work, then Alien Rides is the place to shop. Our curated selection of high-quality personal electric vehicles has models for all price ranges and use cases, each backed by our guarantee of safety and performance. Check out our lineup to find your new ride today.
Read More: Electric Scooters vs Electric Unicycles: Key Differences and Similarities

Read More: The Best Electric Scooters for Commuting in Busy Cities: Safety and Efficiency Considered

Read More: Electric Scooters: Everything You Need to Know Before Buying
---