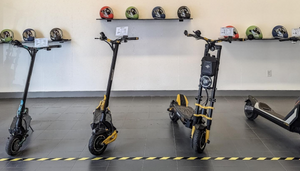 The Best Electric Scooters for Commuting in Busy Cities: Safety and Efficiency Considered
Working in a busy city can make commuting frustrating. Between traffic on the road for cars and the limitations of public transport, many people are turning to alternative methods, including electric scooters.
Ultimate Guide to Buying an Electric Scooter for Commuting
Electric scooters are a compact alternative to walking, driving, or taking public transport, though they can definitely be used in combination with those methods. From size to safety, here's what you need to know about picking the best electric vehicle for your commute.
What to Consider When Picking a City Commuter Electric Scooter
When choosing a city commuter scooter, there are four main factors to consider: speed, range, weight, and portability. We can discuss them in pairs for the sake of convenience.
Speed and Range
A commuter scooter needs to have reasonable speeds to keep up with the busy flow of city traffic. The average speed range for a commuter electric scooter is about 15-30 mph, with most topping out around 20 mph during regular use. This allows you to move at least on par with bicycle traffic and faster than foot traffic without going so fast that you can't make tight turns and split-second safety decisions to deal with obstacles like large crowds, large vehicle traffic, or construction.
These scooters should also have a decent range on them so that you can make your entire commute on one charge without worrying about running out of power. The average range for an electric scooter starts at about 35 miles per charge and can get as high as 60 miles or more in performance models. For a commuter vehicle, consider the one-way length of your commute and add a small amount of cushion to find your starting ideal range. You may choose to bring a charger with you as you travel to cover this one-way charge if you have an extended commute.
Weight and Portability
If your battery does run out, your electric scooter will still be mobile, but it will be up to you to move it. Because of this, the weight of your scooter is important to consider. Not only that but having a heavier scooter can make it difficult to carry it with you between stops on your commute, such as if you utilize public transport or work on an upper level of your employer's building. For the sake of your safety, consider buying a scooter that is in a weight range you can comfortably lift and carry.
To that end, you'll also want to consider the portability of your electric scooter. Scooters that can be compacted for travel are excellent options for commuters. This might include having detachable accessories or a folding design.
The Best Electric Scooters for Commuting in Busy Cities
Here are some of the best city commuting options for electric scooters.
VSETT MINI
The VSETT Mini is a compact scooter designed specifically for urban commuting. Its lightweight frame is easy to transport and store while its strong locking mechanism means you don't have to worry about it folding while in use. It also has excellent front and rear suspension to make traveling on uneven sidewalks and roads easier.
With powerful (and removable) batteries that offer up to 20 miles of range on one charge and a solid 18 mph max speed, the VSETT Mini is the perfect option for convenient inner-city commuting. 
INMOTION CLIMBER ELECTRIC SCOOTER
For those who live in hilly cities (hello San Francisco!), the InMotion Climber can help you master tough slopes with ease. Its dual motor configuration allows it to handle slopes up to 36%, and its IP6X rating means it can handle any rain, water, or dust you throw its way. 
With a top range of 34 miles to the charge and a nearly 24 mph top speed, the InMotion Climber is a powerful choice for more adventurous city commutes.
VSETT 10+ ELECTRIC SCOOTER
If you like the options in the VSETT Mini but want a bit more substance, the VSETT 10+ might be the choice for you. Designed with safety and affordability in mind, this scooter is equipped with front and rear turn signals, an e-horn, and a bright headlight for maximum visibility, and is available for a middling price of $2,190. 
With an impressive 45-mile range and 50 mph top speed, the VSETT 10+ is perfect for long, busy commutes at any time of day. 
SEGWAY - NINEBOT P100S ELECTRIC SCOOTER
If you need range and stability, the Segway Ninebot P100S is an excellent option for you. It uses a high-performance motor and nearly 59-volt battery pack to make sure you get where you're going. It also has ergonomic grips and a wide footboard to make sure that ride is as comfortable as possible.
At an amazing 62.1 mile maximum range and a decent 27 mph maximum speed, the Segway Ninebot P100S is great for long commutes that demand comfort.
VSETT 11+ SUPER 72 ELECTRIC SCOOTER
The Vsett 11+ Super 72 is a powerful electric scooter that boasts an impressive range and advanced features. It is the top of the line model, built on the same frame as the Zero 11 but with significant upgrades. The most noticeable difference is the twin stem bars, which signal the scooter's power and stability.
Equipped with dual 2,000 watt motors and a massive 72 volt 35 amp hour battery, the 11+ has a practical range of 60 miles. The scooter's dual suspension has also been upgraded, featuring two hydraulics in the rear and one in the front, making for a smooth and comfortable ride. Additionally, the 11+ has bigger tires, measuring 11 by 4 inches, for improved traction and stability.
Conclusion
Commuting doesn't have to be something you dread. As long as you know how to find the right electric scooter, your daily commute can be a fun start to your workday and a great way to unwind on the way home.
Read More: Electric Unicycles: The Complete Maintenance Guide
Read More: Electric Scooters: Everything You Need to Know Before Buying
---