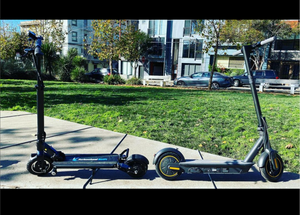 E-Scooter Buying Guide: How to Choose the Best Commuting Scooter
Commuting to work isn't the most exciting thing that happens in our day, but that doesn't mean it has to be boring. If you're looking for a way to make your commute more fun, efficient, and eco-friendly, consider adding an electric scooter to your routine. Here's what you might need to consider, as well as some options for you to explore.
Why use an e-scooter for commuting? 
E-scooters are a great choice for commuters in cities and towns for a variety of reasons.
To start with, e-scooters are lightweight and compact, as they generally weigh between 30 and 60 lbs and are able to fold down nearly flat, taking up only a few feet of space. This makes them perfect for taking with you to office jobs or school, and for use in combination with public transit.
Additionally, e-scooters are quick and safe. With speeds ranging around 20-30 mph on average, they can keep up with both pedestrian traffic and light in-town vehicle traffic. On top of that, most modern e-scooters have built-in safety features like strong suspension, lighting, and improved braking.
Finally, e-scooters are fun! They're a great way to speed up your commute while also allowing you to enjoy the sights and sounds along it in a comfortable fashion. 
How to choose the best commuting scooter
A reliable and durable commuting scooter can make your daily commute more enjoyable and eco-friendly. When choosing an e-scooter for commuting, here are a few factors to take into consideration. 
Lightweight scooters will transport easier, while heavier models will be able to carry more cargo and generally be more stable.

For city commuting, especially at night, options for lighting and reflection are important safety features that shouldn't be overlooked. This can help you see and be seen in low-visibility situations such as night commutes, fog, or heavy rain.

Speed is generally less important than range for commuter vehicles. You'll want to be able to make it at the very least to your office on one charge, even better if you can make the round trip in one go.

Additional safety and convenience features like wider footboards, improved suspension, and external battery availability might be worth looking into if you plan to use your commuter scooter frequently or in more challenging conditions.

The safety rating or IP rating of your scooter matters quite a lot if you live in an area that gets a significant amount of rain or an area with lots of dust and debris on the roadways. Look for a model with an IP56 or higher rating.
Best commuting scooter examples
Here are some of the best examples of e-scooters designed with commuters in mind.
The

VSett Mini

is a great ultra-lightweight option for inner-city commuting. With a weight of just 30 lbs and a compact frame complete with solid tires to eliminate flats as a possibility, it's perfect for use in combination with public transport.

The

InMotion Climber

not only has an impressive 34-mile range and high IP rating for both the body and battery, but also the capability to climb up to 36% slopes with ease and safety. This makes it a great commuter option for hilly areas with steep inclines on streets.

The

VSett 11+

, an improvement on their Zero 11's frame, has improved front and rear suspension and a solid 330 lbs max load, making it great for commuters who are heavier or who need to carry more gear with them to and from work. It also has an impressive 60-mile maximum range.
Conclusion
E-scooters can make fantastic commuter vehicles. You just need to know what you're looking for to get the most out of these eco-friendly rides.
If you're interested in exploring your e-scooter options, Alien Rides has a great selection from some of the best brands in the industry for you to choose from. With the newest models, all tested in-house, you're sure to find something that suits your commute from top to bottom, and you can rest assured that you're getting exactly what you're seeing.
Read More: Electric Unicycles: The Complete Maintenance Guide

Read More: 7 Key Features to Look for When Purchasing an Electric Scooter

---