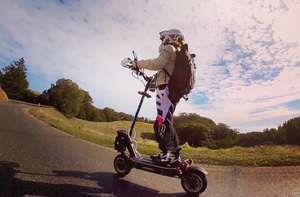 Best Electric Scooters for Climbing Hills
If you live in a particularly uneven area – such as Pittsburg, PA, with the steepest street in the United States at a 37% angle – transportation can be difficult. Walking up steep slopes can be uncomfortable and riding up or down them can be dangerous with the wrong machine. So, it's important to consider your machine's capabilities when choosing the right one for hill-climbing.
What to Consider for Hill-Climbing Scooters
Firstly, traction and suspension are your friends, so high-quality tires and a strong suspension system on both wheels is a must for a hill-climbing scooter. Brakes are equally important for going downhill; make sure the machine you're considering has a strong braking system. You need to have enough power to go up steep inclines, so a strong motor or set of motors goes a long way. Finally, consider other safety accommodations such as high IP ratings for water and debris, wider footboards, and lighting or reflectors for better visibility. 
The Best Electric Scooters for Climbing Hills
Here are some of the best electric scooters you can choose from for climbing hills and commuting in steep terrain.
InMotion Climber
Far and away the best option for steep environments – so much so that it's in the name! – the InMotion Climber is specifically designed to handle sharp inclines with ease. It is capable of managing up to 36% slopes, making it suitable for almost any urban environment. It accomplishes this with dual 750W motors and built-in battery balancing for strong output that isn't at the expense of range; with the Climber, you can get up to 34 miles of range in one charge!
Beyond this, the Climber has an IP56 body rating and a battery rating of IPX7, making it extremely resistant to water and debris, and a compact frame that makes it highly portable. If you're looking for a regular commuter with high slope tolerance, the InMotion Climber should be your pick.
Segway SuperScooter GT1
Another solid option for slope-tackling machines is the Segway SuperScooter GT1. This high-capacity scooter has a whopping 1400W of rear motor power that can be set to six different modes to accommodate the rider's needs. This machine also has a wider footboard, strong suspension on the front and rear, and 11-inch pneumatic tires for better handling overall. 
When you're not climbing hills, you can enjoy its lightning-fast acceleration and max speed of over 37 mph! 
VSett 11+ Super 72
If you're looking for stability and motor power to help you climb inclines, the VSett 11+ Super 72 is the machine for you. With two 2000W motors and impressive hydraulic suspension on the front and rear 11-inch wheels, this scooter is built to accommodate a maximum load of 330 lbs, which is perfect for larger riders and riders who frequently carry cargo. It's perfect for commuting as well, with a maximum range of 70 miles and a top speed of an impressive 65 mph. 
It also features additional safety precautions including a powerful horn, bright headlight, and front and rear turn signals.
Conclusion
Working around steep slopes and inclines doesn't have to be a struggle. With the right machine, using an electric scooter to navigate these planes becomes simple and fun. 
Interested in exploring the best electric scooters on the market today? Alien Rides has a wide selection from some of the most well-known and trusted brands in the industry including the newest models available right now. Expert vetted and regularly tested, with Alien Rides, you can trust that you're getting quality and performance every time.
Read More: Electric Unicycles: The Complete Maintenance Guide

Read More: 7 Key Features to Look for When Purchasing an Electric Scooter

Read More: A Complete Guide to Picking an Electric Unicycle
---