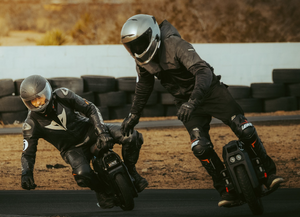 How to Choose the Best Electric Unicycle for Your Commute
Commuting can be frustrating, especially if you're trying to navigate a city quickly. Cars are environmentally damaging and liable to traffic while walking is slow and tiring. So, how do you find a happy middle ground? Consider an electric unicycle.
Though not the most common choice on the market, electric unicycles are an affordable, effective, and entertaining alternative to typical commuting methods that can work for a variety of lifestyles.
Is an electric unicycle practical as a commuter vehicle?
When considering whether it would be practical for you to use an electric unicycle as a commuter vehicle, you should look at the factors associated with that decision, such as the cost of purchasing and maintaining the vehicle, the logistics of transporting and storing your EU when not in use, and your safety. 
An electric unicycle is a practical option for riders with some experience with the vehicle traveling a relatively simple urban or suburban commute and the opportunity to store their vehicle safely. They're a great option for eco-conscious riders and those who want to have a faster travel mode than walking that's cheaper than a motorcycle or car.
The pros of commuting with an electric unicycle
Electric unicycles have certain advantages over more traditional methods of transportation that can make them a massive boon for commuters. 
To start with, they're generally significantly less expensive than larger vehicles like cars and motorcycles, which makes them more accessible. The average cost of an electric unicycle is $2,000 or less, while the average cost for a motorcycle is around $10,000.
They're also relatively lightweight, ranging between 20 lbs at the lightest and 60 lbs or more at the heaviest with the average in the middle, around 30-40 lbs, and they're compact, meaning they can be brought on public transport and stored under a desk or in an employee storage space with little issue. 
Beyond that, they're relatively cheap and easy to maintain and use. They don't require gas to run and can be charged relatively cheaply at home. Insurance for electric personal vehicles is also quite cheap, starting at around $100 per year. 
They also produce no emissions, so they're safer for the environment.  
The cons of commuting with an electric unicycle
As with anything, of course, there are a few concerns to take into account when purchasing an electric vehicle.
Firstly, like motorcycles and other small personal vehicles, electric unicycles have limited safety features. It may be risky to ride in heavily populated areas, especially those with heavy car traffic. 
Additionally, learning to ride an electric unicycle takes time and practice, as it's an unusual skill to attain, meaning you'll be spending some time getting used to the machine before you can use it at peak efficiency.
Also, given that electric unicycles are personal vehicles, they have a capped top speed and range per charge which may make particularly long or difficult commutes difficult. The average electric unicycle can travel up to 20 mph (some performance models can go as fast as 40 mph or more) and go on around 35-40 miles on a single charge. This is of course also impacted by the weight of the rider and the speed of the ride, so your mileage may vary.
How to choose the best electric unicycle for your commute
When choosing the best electric unicycle for your commute, you'll want to consider a few key factors of that commute and compare your situation to the capabilities of the machines you're considering.
The distance of the commute
It sounds obvious but it bears saying: you'll want an electric scooter that can travel the entire distance of your commute without needing to be charged. To calculate for this, track the distance of your commute using an application like Google or Apple Maps. Add some padding to this distance to find the minimum standard range you should be looking for in your commuter vehicle. Consider adding additional padding if your commute involves lots of hilly terrain or traffic.
You may also want to consider how and where you'll be charging your vehicle; if you're bringing it with you on a longer commute, consider investing in a charger for your home and an additional charger for traveling. 
The weather in your area
Weather is an important deciding factor in which electric unicycle you choose for your commute. If you live in a place that gets lots of precipitation, you'll want to invest in a vehicle with a higher water resistance rating. 
You can determine how resistant an electric unicycle is by looking for its ingress protection or IP rating. A rating of IP54 or higher means that your EU is rated to work well in normal rainy conditions.
When you'll be commuting
When you'll be commuting can be just as important as where you'll be commuting. If you plan to do lots of commuting at night, you might want to make sure that your electric unicycle is equipped with safety features such as lighting and reflective strips, which can both make it easier for you to see where you're going and make it easier for other commuters to see you. This is especially important if you're commuting in a place with high motor vehicle traffic.
Your budget
Of course, budget is also a factor when considering which electric unicycle is best for your commute. As mentioned, the average price for an electric unicycle is around $2,000. Setting your budget around this amount will give you the best flexibility when it comes to purchasing.
While it may be tempting to opt for cheaper models, ranging as low as $300, this usually comes with a trade-off in quality or available features. That being said, you don't necessarily need to opt for a high-end model that ranges over $4,000 to get a safe and well-equipped commuter vehicle. 
Try to balance the features that you need with the amount you're willing to spend; in this case, splurging slightly for quality can help prevent issues like malfunctions and parts that need replacing later on. For the best deals, look for a retailer that offers reasonable prices for EUs from reputable brands - like Alien Rides!
Top electric unicycles for commuters
Here are some good options for commuter electric unicycles.
Begode Mten4 Smallest Electric Unicycle.

This small and relatively light model is perfect for those who want a portable machine that works well for beginners. It's designed for inner-city commuting and has a fairly short range at 15 miles per charge average. It costs around $850, making it a relatively inexpensive option for those new to this type of vehicle.
Inmotion V12 High Speed Electric Unicycle
.
This model is an excellent mid-range commuter with a typical range of about 40 miles under normal conditions and a decent top speed of 43 mph. It also includes some quality of life upgrades such as an IPX5 rating (good for all weather), smart BMS, and an automatic headlight. It costs about $2,000.
Inmotion V13 Electric Unicycle.

Though it is on the more expensive side at around $4,000, this electric unicycle model has an impressive amount of speed and power while remaining portable. It features an 18-watt front headlight and a 1-watt rear light and has an IPX6 rating which means it's perfect for all weather conditions. 
Are Electric Unicycles Worth It?

Electric unicycles are becoming a more and more popular choice for the daily commuter. They're more fun and effective than traveling on foot and better for the environment than traveling by motorcycle or car. A good electric unicycle can turn a boring commute into an adventure in your everyday life.
Do you think an electric unicycle could be a good commuting option for you? Consider our lineup of the best electric unicycles on the market to find your ideal ride, complete with excellent customer service and a generous warranty to make sure your vehicle is protected.
Read More: Electric Unicycles: The Complete Maintenance Guide
Read More: Electric Scooters: Everything You Need to Know Before Buying
Read More: The Fastest Electric Unicycles of 2023: Top 9 Ranked
---